Chhath Puja: Four-day long tradition of devotion begins Friday; all you need to know
Patna: Chhath Puja, an endearing tradition, is a vibrant festival dedicated to worshipping Lord Sun and Chhathi Maiya, resonating across North India after Diwali. Celebrated mainly in the Terai areas of Bihar, Jharkhand, Eastern Uttar Pradesh, and Nepal in Eastern India, this folk festival sees both men and women expressing faith and devotion to Lord Sun and Chhathi Maiya, creating a holy atmosphere in every household for four consecutive days.
Nahay-Khay (First day)-This year, Chhath Puja will commence on November 17 with 'Nahay Khay' (Bath and Eat), and will continue till November 20. Nahay Khay initiates the celebration, symbolising a day of purification where fasting men and women perform ablutions, worship, and consume prasad made of pumpkin, rice, and rock salt.
Kharna(Second day)- The first day is succeeded by a 36-hour dry fast known as Kharna on the second day, where devotees fast the entire day, and partake in an evening bath. After the Sun sets, a special prasad is prepared including bread and Kheer made of jaggery, and worship Lord Bhaskar.
Sandhya Arghya (Third day)- The third day is also called Evening Arghya (prayers) which will fall on November 19 this year. The devotees offer thekua (a special sweet made of wheat, jaggery, and flour), fruits, and prasad in a bamboo basket, presenting Arghya to the setting Sun. The devotees perform the ritual by taking a holy bath in the Ganges.
Usha Arghya (Fourth Day)- The final day witnesses Arghya to the rising Sun, with the same ritual of taking a holy bath in the Ganges. Devotees offer Arghya to the morning Sun, concluding the festival. After returning home, people on fast, also called Vrati, break their fast by consuming food and water, performing 'parana' (breaking of the fast). This ritual marks the end of the 36-hour-long Chhath Puja, a celebration soaked in tradition and devotion, bringing communities together in reverence for Lord Sun.
Koshi Puja- Koshi Puja is also considered to be a significant tradition in Chhath Puja, where the devotees fill the elephant-shaped 'Koshi' (earthen pot) with prasad. It is believed that if any wishes are not being fulfilled or if there is an incurable disease, a resolution is taken to fill the Koshi, which not only fulfils the wishes but also gives relief from suffering. When the wish is fulfilled, gratitude is expressed to Chhathi Maiya by filling Koshi.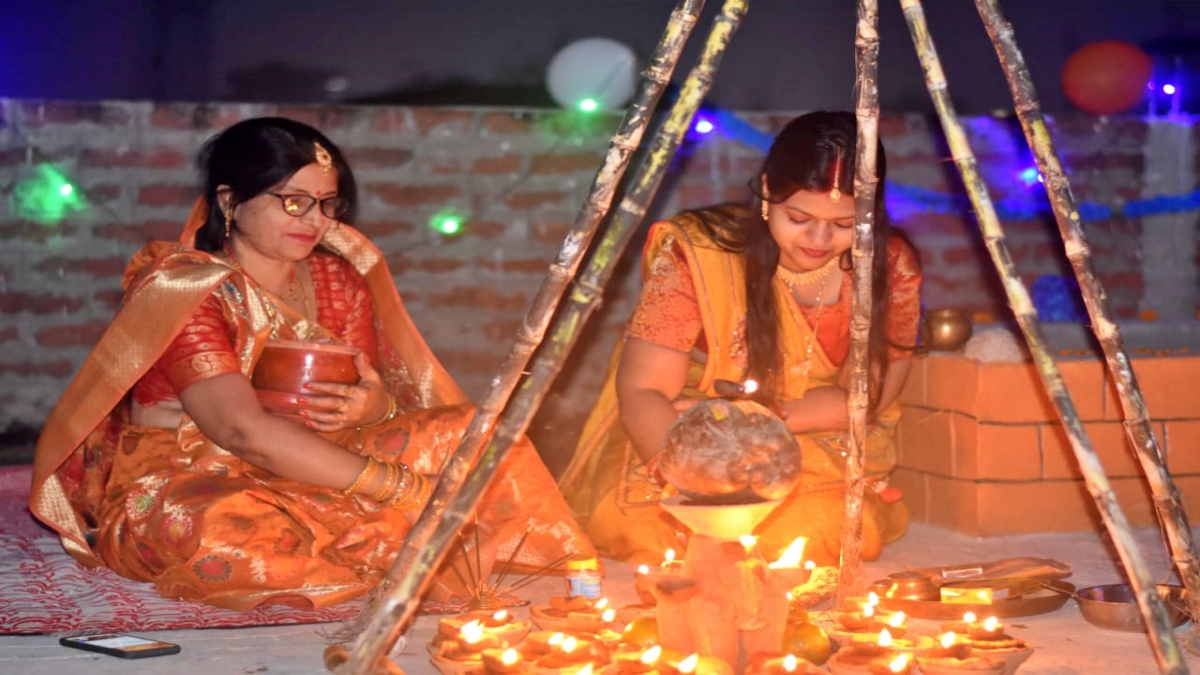 Fulfilling wishes- Chhathi Maiya, the benevolent deity, is believed to fulfil all wishes during the great festival of faith, Chhath Puja. Celebrated with strict adherence to rules and unwavering devotion, this festival holds special significance for those seeking happiness and prosperity. Devotees observing the Chhath fast with dedication are said to be blessed with the joy of parenthood and the attainment of wealth, ensuring a life filled with happiness and prosperity.
Rules of Chhath Puja- The most revered festival in North India is celebrated while keeping some strict rules in mind. Sleeping on the ground for four days, without using a blanket or mat, is considered auspicious. Cleanliness is paramount. It is believed that any lapse in this regard, no matter how slight, may displease the Goddess.
Additional rules include the significance of fruits that take a year to grow. Essential elements like bamboo soop, coconut, sugarcane, earthen lamps, fruits, and thekua are integral to the puja. Bananas also play a vital role as offerings presented as prasad.
Scientific reference- Beyond its religious significance, Chhath is also regarded scientifically. The festival aligns with an astronomical occurrence on Shashthi Tithi when the sun's ultraviolet rays accumulate on the earth's surface in greater quantities than normal. Celebrated to safeguard against the adverse effects of this phenomenon, Chhath holds a special place in both religious and scientific realms.
Mythological reference- It is believed that after vanquishing Ravana, Lord Shri Ram and Mother Sita observed a fast on the Shashti Tithi of Kartik Shukla, worshipping the Sun God. The following day, Saptami, the two received blessings by worshipping the rising Sun. This mythological belief adds to the reverence and significance of the Chhath festival.
Latest News NASA administrator Bill Nelson meets Rakesh Sharma, says "The universe is the limit!"
30 Nov 2023 10:09:24
Bengaluru (Karnataka): National Aeronautics and Space Administration (NASA) Administrator Bill Nelson expressed delight at meeting students at the Indian Space...